Press Releases

WCSO Arrests Odom For Grand Larceny
November 12, 2010
Printer-friendly version!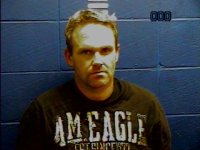 The Wayne County Sheriff's Department arrested Jeffery Kyle Odom Thursday, November 11th 2010 for grand larceny. The arrest stems from the investigation of Logan Oil Services reporting that an oilfield pump valued at approximately $80,000.00 and a diesel engine had been stolen from the office location in Eucutta. Deputy Charles Everett and Investigator Mozingo responded. The theft of the pump was captured on security video surveillance system. Using the video footage, Odom was developed as a suspect. Odom was actually an employee of Logan Oilfield Services at one time. Wayne County Justice Court Judge Charles Britton Sr. set Odom a bond at $25,000.00. Investigator Mozingo will present the case to the January 2011 Wayne County Grand Jury.
The pump and diesel engine have not been recovered and the investigation remains open. Anyone that may have information about the pump or diesel engine is asked to call the Wayne County Sheriff's Department at 601-735-3801 or Crime Stoppers at 735-LEAD (5323). You can also submit information online using our "Submit a Tip" form.