A Welcome From Sheriff Ashley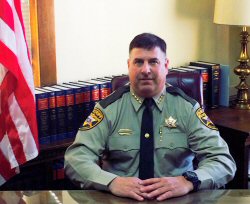 Welcome,
As your newly elected Sheriff of Wayne County, I would like to take this opportunity to welcome you to the Wayne County Sheriff's Department website.This website was initially
developed to continuously increase the technology and efficiency of YOUR Sheriff's Department. Many of the citizens of Wayne County have expressed to me their appreciation
of the website. In an effort to establish open streamlined communication between the department,citizens, and the news media, I have overseen the project of bringing the website current.
It is my intention to maintain recent and relevant content on the website for your use. With today's technology, we can better inform the public of vital information that enables us all
to work together to solve crimes and make this a safer and better community. I strongly feel that an informed public is a safer public.
I encourage you to take a look at the website as I trust this website will enable you the citizens better access to YOUR Sheriff's Department. Thank you for visiting the Wayne County Sheriff's Department Website.
Your Sheriff,
Jody Ashley